Here we list events organised or involving members of the Sexual Knowledge unit members.

Sex, Sexuality & Classical Reception seminar + book launch!
28th February 2019 @ 15:30

-

19:00
*PLEASE NOTE THE EVENT START TIME AND VENUE HAVE CHANGED*
Constantine Leventis Teaching Room, Building:One, University of Exeter Streatham Campus
This seminar brings together three early career researchers exploring the history of sex and sexuality and the reception of the ancient world in the 19th and 20th centuries.
Papers will be followed by a wine reception to launch Sculpture, Sexuality and History: Encounters in Literature, Culture and the Arts from the Eighteenth Century to the Present (Palgrave Macmillan, 2019), edited by Jana Funke and Jen Grove.
Speakers:
Georgina Barker (Edinburgh/Exeter):  "Sex in the USSR with Sappho, Cynthia, and Shvarts"
Mara Gold (Oxford): "Citizens of Lesbos: Sapphic Code and the Language of Lesbian Desire"
Rebecca Mellor (York): "Measuring the Phallic: Statistical Analysis and the Visuality of Sex"
For abstracts see below. 
Papers from 3.30-5.30pm followed by drinks. All welcome! 
An event from the national Classical Reception Studies Network (CRSN), the University of Exeter's Centre for Medical History, Classical Receptions Network, Sexual Knowledge Unit and the Rethinking Sexology project.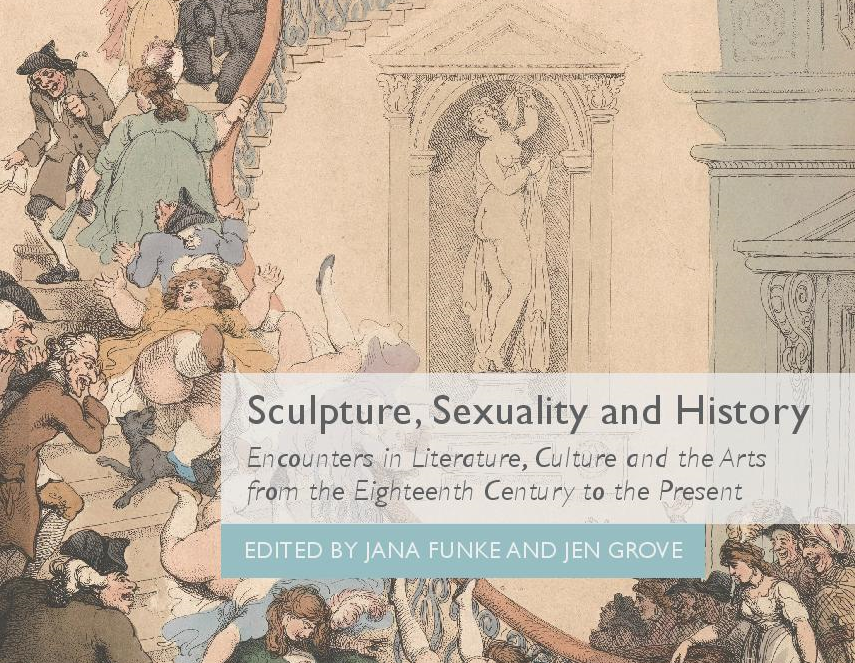 Abstracts:
Barker: 
Famously, there was 'no sex' in the USSR – so Elena Shvarts' exploration of sexual themes in her poetry was one of many factors that made her work unpublishable officially. This paper examines how Shvarts used Sappho and Sapphics to shape poems about sex. Shvarts' Sapphic receptions take place in conjunction with multilayered receptions of other classical poets (Propertius, Catullus, and Ovid), classical figures (Aphrodite, Cupid, and Pasiphae), and Russian poets (Tsvetaeva and Mandel'shtam), which my paper will unpick. With their unerotic physicality, Shvarts' Sapphic poems subvert the expectations of their form just as they disturb the Soviet illusion of a sexless state.
Gold: 
Classical women undoubtedly pervade western lesbian culture. From Sapphic magazines and Amazonian sports teams to the term "lesbian" itself, references to both historical and mythological figures become commonplace during the late 19th and early 20th century, a time when an explicit lesbian culture was first emerging. This paper explores the history of Sapphic terminology and the way both medical professionals and queer women looked to Ancient Greece in order to understand and identify sexuality. In addition, with the learning of Greek being an act of rebellion or empowerment for women, Ancient Greek language and sapphic code was often seen as the only way to express female desire. Taking an interdisciplinary approach, I will examine literary, print media, academic and archival sources in order to illustrate the ways that Sapphic code was being used to both hide and reveal lesbianism as early as the 18th century. Through the framework of queer temporality and classical reception theory, I will provide new insights into queer women's published and personal writing (and therefore their lives), which is tinged with a deep sense of nostalgia for the Classical world. This nostalgia for something they never had provides insights into the nature of queer longing and Heather Love's concept of "feeling backward" (2007). Furthermore, queer women's interest in their own heritage was not purely an academic pursuit, but rather the embodiment of an idea that was tied deeply to the spiritual realm. In developing a language of lesbian desire, queer women summoned the spirit of Sappho both metaphorically through their work and literally through ritual practice. Thus, lesbian writing and culture was and always will be haunted by the ghost of Sappho.
Mellor: 
In 1865, the British Museum established an official Museum Secretum to house the more 'obscene' items within their extensive collection. Objects determined to be improper for public viewing or general storage were separated and re-archived using the taxonomic principles of the time using a new 'MS 'number. Access was heavily limited and monitored, based on education, gender, and class creating a cultural elitism in relation to sexual material that was often of Greco-Roman origin. Though many 'obscene' objects have been deaccessioned from an archival collection that is now often considered entrenched with problematic approaches to sex, gender, sexuality, queerness and censorship, the Secretum still technically exists and offers invaluable opportunities to explore the definitions of the obscene from its establishment in 1865.
With the advent of the digital age and associated visual technologies now available, access to images of sexual and sexualised material has never been easier. This paper aims to pose questions exploring the legacy of Victorian archival practices of these sexual objects how this impacts visibility and visuality of these images in a digital age. How do we as researchers unpick and engage with the previous archival lives of these objects? What tools in the 21st century do we have to help, or potentially hinder, this process?