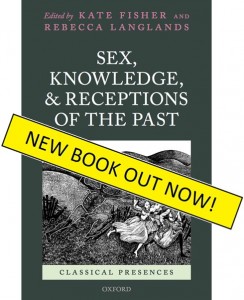 Sexual Knowledge, Sexual History is jointly directed by Professor Kate Fisher and Professor Rebecca Langlands and is a Sexual Knowledge unit project.
This interdisciplinary, collaborative research project is developing a new direction for the history of sexuality, applying the approaches and methodologies of the emerging discipline of Classical Reception to the study of the ways that ideas about sex and sexuality have developed in recent centuries.
We are exploring issues such as why and how people throughout history have turned to the past in order to make sense of sexual experience, what kinds of authority the past has exercised in popular and scholarly debates about sexual practices, identities, civilization and morality, and how changing interpretations of past sexualities reflect historical shifts in the way sex is understood.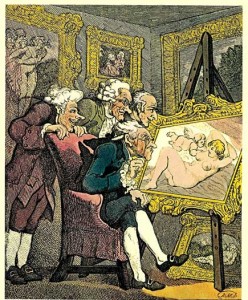 In making sense of sexual behaviour, Western society has often looked to a wide variety of past cultures and civilizations (from antiquity to the Far East, from primitive cultures to the Victorians). Our research interrogates this Western fascination with sex in the past and examines the various ways the past has been marshalled in debates about sex and sexuality – to challenge contemporary beliefs, to sustain sexual identities, in support of movements for sexual reform, or in reinforcing claims about universal human desires.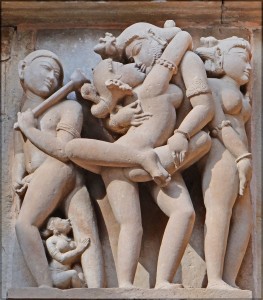 As part of the Sexual Knowledge, Sexual History project, the team has organised several international conferences:
The project's aim is to elucidate the complex links between constructed 'knowledge' about human sexuality and the contested interpretations of material from past cultures which seems to give us evidence about their sexual practices and ideologies.  The knowledge in question ranges from the popular to the academic, from medicine and sexology to the heated debates taking place in internet chat-rooms, from theological ethics to Hollywood films.
The Sexual Knowledge, Sexual History project ranges widely across historical periods, national boundaries and different kinds of source material, as well as existing scholarly disciplines.
Project director Rebecca Langlands (University of Exeter) spoke to the Center for Science, Technology, Medicine & Society at the University of California, Berkeley in January 2015. This paper is the result of interdisciplinary collaboration within the Rethinking Sexology and Sexual Knowledge, Sexual History projects at University of Exeter. Read the abstract on Youtube.
Recent publications within the project include:
Kate Fisher and Rebecca Langlands, Sex, Knowledge and Receptions of the Past (2015, OUP)
Jana Funke and Rebecca Langlands "Materialistic Passion and Noble Spirit: Sexological Uses of Rome" in Jennifer Ingleheart (ed.) Ancient Rome and the Construction of Modern Homosexual Identities (2015 Classical Presences series OUP)
Jen Grove "The role of Roman artefacts in E. P. Warren's "paederastic evangel", in Jennifer Ingleheart (ed.) Ancient Rome and the Construction of Modern Homosexual Identities (2015 Classical Presences series OUP)Jana Funke "'We Cannot Be Greek Now': Age, Class and the Making of Sexual Inversion." English Studies. 94:2 (2013): 139-153
Jana Funke "The Case of Karl M.[artha] Baer: Narrating Uncertain Sex" in Jana Funke and Ben Davies (eds.) Sex, Gender and Time in Fiction and Culture (Palgrave, 2011): 132-153.
Kate Fisher and Rebecca Langlands 'The Censorship Myth and the Secret Museum' in S. Hales and J. Paul (eds.), Pompeii in the Popular Imagination from its Rediscovery to Today, (OUP Classical Presences Series, 2011): 301-315
Kate Fisher and Rebecca Langlands, "This way to the red light district": the internet generation visits the brothel in Pompeii" in Kim Shahabudin and Dunstan Lowe (eds.) Classics For All: 2009), 172-194